Globe Products servomotor and drive replacements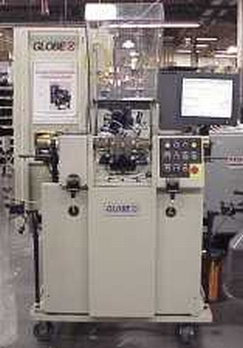 Globe Products Repair, Refurbishment, and Replacements
Globe Products Repair, Refurbishment, and Replacements
Potomac Repair Services offers 20 years of experience in servomotor and servodrive repairs for Globe Products machines. We also manufacture and design Form, Fit, and Function replacement parts.

Contact us! We may have already solved your problem!
Globe Products, Inc. (also known as The Globe Group) designs and manufactures machines and tooling for making wide variety of electric motors. The company's product line includes coil and armature winders, commutator placers, armature balancers and stackers, commutator turning lathes and fusers, shaft press machines, end fiber placers, armature cell inserting machines as well as complete custom-made turnkey systems.
Potomac Electric has supported Globe Products and endusers around the world with repair, refurbishment, and replacement of servo products used on several generations of armature and stator winders. From the now retired M4000 (see picture to your left) to the newest equipment, Potomac Electric will help you save on maintenance costs. Some of the examples of equipment we have supported are Westamp's A6522 series servo amplifiers, Kollmorgen's BDS4 & BDS3 servo drives, Kollmorgen's Gold Line brushless servomotors, and Torque System's MT5160-023KF servo motors.
We at Potomac Electric pride ourselves on saving our customers money by maintaining and running current and obsolete automation equipment for winding machines. We are also continuously working on developing replacements for obsolete or very expensive parts. We will update this page as more replacements become available.
We are a small business and we understand the difficulty and cost of maintaining the winding machinery. Please drop us a note on our Inquiry and Quotes page with any questions.
Many winding machinery servomotors and servo amplifiers may be available in our Parts Inventory, so please contact us if you have any small-lot production needs.