Moog Servo Motors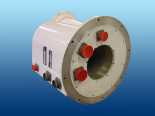 Moog Repair and Refurbishment
Potomac Repair Services supports Moog servomotor and drive repairs in both military and commercial applications. We also design and manufacture a number of Form, Fit, and Function replacements. This saves a lot of money on machine maintenance and avoids costly retrofits.

Contact us. We may have already solved your problem!
Moog Inc. is a designer, integrator, and manufacturer of high-precision control systems and custom solutions used in military, aerospace, satellite, industrial automation, energy, textile, plastic, and medical applications worldwide. Moog's high-performance slip rings (see below), brushless servo motors, single and multi-axis servo drives, and digital motion controllers are known for their reliability, safety, and accuracy. Working on Moog brushless servo motors and servo drives for over 15 years, Potomac Electric has repaired hundreds of brushless Moog servomotors and amplifiers.
A "slip ring" is a method of making an electrical connection through a rotary assembly. By utilizing continuously conducting brush assemblies, slip rings transfer power and control signals to and from rotational to a stationary frame.
Slip rings are widely used in both military and commercial applications. They vary in their size and complexity.
Potomac Electric provides complete repair and refurbishment services for slip rings, including silver plating, mechanical machining, and precise electronics testing per the original manufacturer's specifications.
We are a small business and we understand the difficulty and cost of maintaining the machinery. Please drop us a note on our Inquiry and Quotes page with any slip ring repair or refurbishment question.
Many of the Moog servo motors and drives may be in our Parts Inventory, so contact us with any inquiries for small lot production.