Baldor and ABB Servomotors and Amplifiers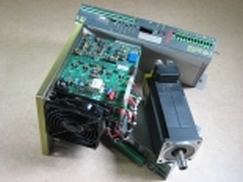 Baldor Servo Drive and Servo Motor Repair
Baldor Servo Drive Repair, Refurbishment, and Replacements
Potomac Electric offers expert Baldor Servo Motor Repairs, Refurbishments, and Replacements
Baldor Electric is a leader in the design and manufacture of AC and DC servo motors, servo drives, linear motors, and multi-axis motion controllers. Baldor Electic products are widely used in medical equipment, military, paper and packaging, machinery manufacturing, and semiconductor manufacturing applications worldwide.
Working on Baldor DC and AC servo motors, servo amplifiers, and servo controllers for over 15 years, Potomac Electric has repaired hundreds of brush and brushless Baldor servo motors, servo drives, and servo controllers. Some of these are likely to be found in your General Motors, Sara Lee, Thermwood, Boeing, GE, Anilam, and other automation equipment: CD, CDP, and MTE series DC brush motors; TSM series servo amplifiers; TSN/M2B series DC servo drives; UM series DC servo controllers; TSD series pwm servo drives; and DBSC series AC brushless servoamps. Potomac Electric has designed and manufactured direct replacements for some of the said models.
We pride ourselves on quality repairs, replacements, and customer service. Call Potomac Electric at 617-364-0400 when in need of repairing Baldor, Westamp, Glentek, EG & G Torque (CMC), Servodynamics, and other servo drives and servo motors.
We are a small business and we understand the difficulty and cost of maintaining the machinery. Please drop us a note on our
Inquiry and Quotes
page with any questions.
Many of the Baldor servo motors and drives may be in our Parts Inventory, so contact us with any inquiries for small lot production.